Sold My Advertising, Now What?
A couple months ago I was struggling to sell any advertisers on my websites at all, today I have a new problem, I have sold too much advertising and now that I have the taste for money and success, I want more of it! After a month of research and testing, I have managed to double then triple my income from using these really cool techniques.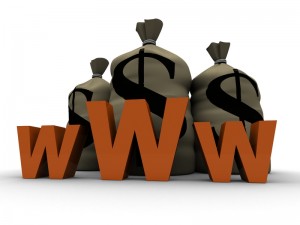 What To Do When You Have Sold Out Your Advertising
– Add More Advertising Areas
Last month I managed to sell all my 125 x 125 and 468 x 60 adverts but wanted to earn more from the website. I was thinking, why wouldn't a customer buy and the reason I came up with was that they didn't have the right size banner advert. So I decided to add a "Recommended Websites" part on the sidebar and include a link with a description, in only a month with no advertising I have sold 6 on Retireat21.com and 2 on Webdesigndev.com, I believe this is mainly because they don't have advertising banners, if they did then they would buy the 125 x 125 image adverts as they typically convert a lot better.
Making it easier for your advertiser can pay off. So now I have sold out of my banner advertising and my text adverts, what now? The second conclusion I came up with for why people didn't buy more advertising is because I didn't ask them to. If you have 10 advertisers and you email them saying you can offer them more traffic and sales and that you are open to new advertising deals, I can guarantee you that most if not all of them will respond.
– FREE Guides
I will go to a lot of blogs and see the same 4 generic links (Home, About, Advertise and Contact us) at the top of every page. You should create a few FREE guides which your readers will enjoy, then in those guides you suggest curtain products which will pay you commissions when are sold. I do this on:
What's great about this is, I get to recommend great products and help my readers create a website but I also get to pick up commissions by helping them. What you must not do is recommend a service you haven't used or don't believe in. You then promote those links at the top of your page and anywhere possible, for me these pages make more than having advertisers. If you haven't used a service or product then you could a comparison chart like I did on the "Create a Website" page which compares what you get for what price. I love this technique because you are giving them all the options and what ever one they take your going to earn money from it.
Over a year ago Caroline Middlebrook created a FREE eBook and has promoted it on her website ever since, the majority of her blog income comes from this eBook because she promotes one product on it and because she recommended it, people take her advice and use it.
– Create Partnerships
I am a big believe in Partnerships rather than Advertisers, a Partnership is when you care if your advertisers get results and make sure they get the most out of advertising on your website. Always be asking them if there is anything more you can be doing for them and if they are happy with the results. If a advertiser is happy then they will never stop advertising on your website, so its a no brainer really. I signed a new partnership yesterday which will be worth another $1500 every day 6 months to promote a new program called Ad Peeps, this product can help manage and sell more adverts on your website. This server is great for Retireat21 readers and you have to make sure that your adverts will fit your website, if they want to advert a beer company on a health blog then you have to say NO because your readers won't appreciate it and your advertisers wont get results.
It is also important to note that you should have all your advertisers payments on Subscriptions to help make sure you don't lose any advertisers. Some of my advertisers have stayed for months, if I didn't have their payment on subscription they probably wouldn't be advertising with me right now. This is not because I don't convert for them but because its EFFORT for them to sort out a new subscription or payment.
– Selling Imbedded Text Links
This is not always recommended but is an option, people are always looking to but imbedded links on websites, I am quite often asked if I would sell text links at the bottom of my website or add links to pages. This really isn't a option for me but a couple weeks back I was offered by 3 companies all at the same time if I would go to some of my articles and add a link to a keyword or phrase on that page. What was great about this offer was the websites were actually helpful to my readers and wouldn't effect my SEO or Readers because its helping me bring a better service. In my case I did decline the offer because I didn't need the money but it was worth $400 a year per link per page, which adds up 😉
I do feel selling links is alright if you are still proving value to your readers, I do see a lot of websites who sell links, sell them to websites who are not directly relevant to the readers. Work with your advertiser and make sure it is beneficial to you, your reader and your advertiser. For example for $600 a year I have added under a comparison chart about making money online with affiliate marketing, I added a line saying if you want to find out more about which programs can make you the most money please visit AffiliateTip.com – This is helpful to my reader because its giving them more options and AffiliateTip are getting recognised. I do recommend you try find advertisers like this because they are easy to work with, I never hear from them yet I still get a $300 payment every 6 months.